Google Analytics and WordPress
As part of an ongoing web project I'm working on for a friend, I have been looking at WordPress and Search Engine Optimization (SEO) with a view towards improving overall Google rankings for a particular web site – http://faceworksevents.com. The first step was to integrate the site with Google Analytics to get a baseline feel for current web traffic.
Be sure to see the Useful Links section for some great resources 🙂
Whenever you work on a customer's site to improve traffic, you first want to know how much search traffic actually ends up on the site. This turns out to be easy as pie with WordPress – simply grab the Google Analytics for WordPress by the master WordPress'er Joost de Valk (aka "YOAST") and install it. To enable Analytics, there are a couple things I had to do because the automatic Analytics registration link provided on Yoast's plugin editing page didn't work. The steps to get the Analytics API key are as follows:
So at this point you have your Google Analytics setup and integrated with your WordPress site. The analytics kick in immediately; all pages now have the following code snippet inserted:


But wait…what about logged-in users? Well, to verify that they do *not* affect Google Analytics page view counts, login to your WordPress site and check out page source. You'll see that the Google Analytics code simply doesn't appear!


At the end of the day, you have Google Analytics that you can review 🙂 To get to them, simply login to Google Analytics as described above and you can see the current set of page views and the average duration. You must be patient for this; the analytics can take some days to kick in and display!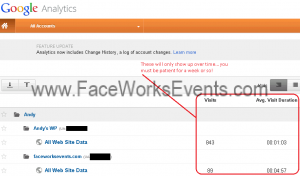 That's it for this article! It only scratches the surface of what you can do with Google Analytics within WordPress. Be sure to review the other advanced options especially the ability to create up to 5 user-defined variables that help in fine-tuning Google Analytics tracking.
Happy WordPress'ing!
Useful Links
Try this one out: ZionandZion.com – Google Analytics Best Practices.